Are you considering moving to Canada? Are you ready to take the necessary steps to gain permanent residency within Canada? Well, you've come to the right place. We are committed to helping people just like you meet the requirements for permanent residency in Canada. One of those requirements is the CELPIP examination, and that's where TEPTH can help. Our state-of-the-art CELPIP courses are tailored to help individuals who need to get their desired score in the CELPIP test be prepared and proficient. So, wherever you are in the application process, TEPTH is here to get you there.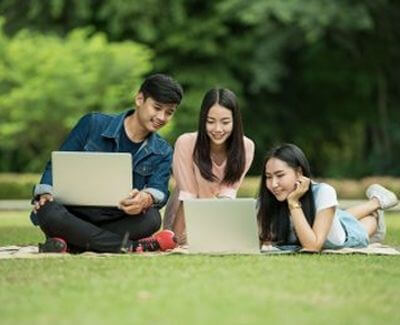 CELPIP stands for The Canadian English Language Proximity Index Program. It's a language assessment tool used by Canada to assess an individual's ability to read, write, speak and listen in English. Canada requires this test be completed and that the individual pass the test before being considered for permanent residency within Canada.
What's on the CELPIP test?
The test is primarily given on a computer and takes about three hours to complete. The test is comprised of four components.
The first portion of the exam is the listening section. The test-taker will listen to passages and then have to answer questions about those passages. It's broken down into sections of listening such as problem-solving, daily life conversation, listening for information, listening to a news item, listening to a discussion and listening to viewpoints. The test-taker will have about 30 minutes to complete this portion of the test.
The second section involves reading passages and answering questions about those passages. There are a few different sections, such as: reading correspondence, reading to apply a diagram, reading for information and reading for viewpoints. This portion of the test takes about 60 minutes.
CELPIP Writing. The third section is the writing section. During this portion of the test, the test-taker must respond to questions with a written answer. It comprises of only two tasks: writing an email and responding to survey questions. This portion of the test takes about 55 minutes.
The fourth and final section of the test is the speaking session. During this portion of the test, the test-taker will receive on-screen prompts. After you receive the prompt, you must reply. There are quite a few sections to this part of the test, but it only takes about 20 minutes to complete. Some topics on this portion are: giving advice, talking about a personal experience, describing a scene, making predictions, comparing and persuading, dealing with a difficult situation, expressing opinions and describing an unusual situation.
After completing the fourth section, the test-taker is finished and just has to wait for results.
How can TEPTH help?
TEPTH is here to guide you every step of the way through your testing journey. We can help you understand the testing process, what you need to do to pass and help you schedule your exam. We currently offer a CELPIP online course and a CELPIP classroom course.
Both courses give you a better understanding of what the test looks like, and prepares you to successfully pass it. Through our top-tier instructors, workbooks and practice tests, we provide you the best tools possible for successfully passing the CELPIP test.
Lastly, we tailor our programs to you and your level of proficiency. Our instructors and advisors are trained and prepared to meet you where you are. They are experienced and ready to help you learn in a way that works for you. So, what are you waiting for? Sign up, and get started on your future, today. Here's to new beginnings as TEPTH helps you on your way